One of the world's most complicated love stories is undoubtedly the one about the relationship between humans and computer.
We are talking about the emotional link that has been nurtured and progressed over time.
Computers like to indulge, and humans like to be involved.
With the breakthrough of touchscreen technology, it's been easier for developers and web designers to create an intuitive environment and allow for humans to be more engaged when browsing.
For this article, we bring to the table some of the best interactions in web design – neat tricks for keeping your visitors engaged and amused while browsing your super-exciting content.
1. Pull down interaction
An effective yet entertaining way of the engaging customer to swipe or pull down the screen to bring another web page to the front.
Example from: http://tram-house.com/ 
2. Click and drag
Enables visitor to slide through web content on your page that goes on beyond the boundaries of conventional displays and monitors.
Example from: http://2017.makemepulse.com/
3. Scrolling with Effects on Drag Interaction
This method is graphically more entertaining to the customer as he gets to trigger particular effect while dragging the page away to get to another page. This is similar to pull down, just more effective.
Example from: http://falter.wild.plus
4. Parallax Drag Navigation with Knob UI Menu
Enables visitor to both slide through the content while being able to choose desired web page from the knob menu at the same time. This provides for two differing browsing integrations within the same platform.
Example from: http://www.ibuongiorno.com/
5. Interactive and Animated Journey
Implementing this type of interaction on your page is probably closest you'll get to adding the interactive component to your website. Visitors will have to constantly interact with the platform to browse through content.
Example from: http://www.ashortjourney.com/
6. Drop here to view
Useful for sites with lots of intertwined inner pages. This interaction asks from user to drag and drop the certain link to be redirected to desired web page.
Example from: http://www.north2.net/
7. 3D Spinning Interaction
Enables 3D view of certain models presented on the site. Extremely useful if you are running an online store for example. Your visitors will be able to see 3D models of your products and zoom in and out at the same time.
Example from: http://viewfromabove.emirates.com/3d
8. Pull to Navigate
Adds a classic style slider to the edge of the screen that enables the visitor to slide through the content on your site in top-down orientation. No inner pages – no hassle.
Example from: http://lookbook.wedze.com/winter-2016-2017/en
9. Click and Hold
A rather simpler way of integration with your visitor which requires from him to click and hold the mouse button for new content to be revealed on-screen.
Example from: http://readyformoreontheroofs.converse.com/
10. Drag and Touch
These interactions represent the combination of dragging the cursor to trigger some on-screen action and clicking buttons as they appear on-screen to get to the next drag reel. Keeps visitor engaged and has a lot potential for displaying both video and text material.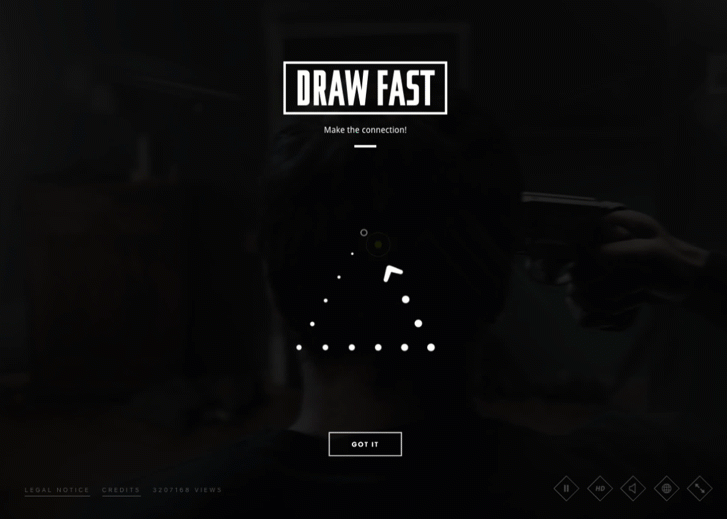 Example from: http://www.fiveminutes.gs/
How many interactions in web design are okay?
The list of possible integrations goes on and on and is practically limited just by the imagination of your web designers. We just scratched the surface of interactive web design possibilities and how implementing these features on your website can benefit your business in its entirety.
Whatever you do, make sure to always keep it nice and simple to use, as lots of dragging, scrolling and clicking can potentially lure off those who just want to get the information in as little time as possible.
---
Working on something great?
We'd love to help you make it happen.